Window & Door Installation
Offering Windows and Doors in Eau Claire, Chippewa Falls, Menomonie, Bloomer, Black River Falls, and Surrounding Areas
Choose from a variety of windows and doors that match your needs and your budget.
Replace or install new vinyl windows and doors in your home. Those old windows and/or doors might have seen better days, but just imagine the new look and feel that new replacement windows or doors can bring to your home's functionality and curb appeal. When you replace a window or a storm door, it makes it easier to open and close, looks fantastic on your property, and gives you significant money savings due to energy efficiency.
Of course, quality windows and doors are necessary in keeping out the cold winter winds, and retaining cool air in the summer. It's common to hear stories of drafty windows that either weren't sealed around the edges properly, or have window panes that have lost their insulation quality. When it comes to window replacing, we're well experienced in knowing the best energy efficient window to use and the expertise in home window installation to ensure that you get a well insulated window or door that matches your home's needs, decor, and budget.
Call 715-579-4699 to get an estimate for new windows or doors today.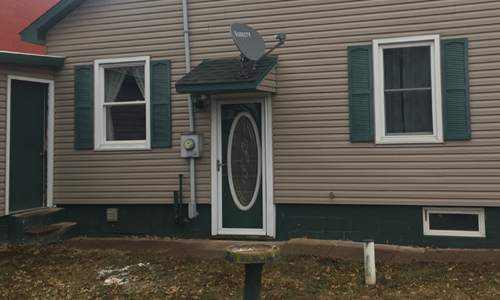 The Best Window and Door Selection
Our professional window and door installation company can assess your home's needs and recommend a variety of home improvement options - from vinyl window replacement, door replacement, basement window replacement, egress windows, bay windows, entry doors, exterior doors, patio doors, storm doors, and much more. We pride ourselves in taking great care to learn your needs and preferences, recommend the finest windows and doors, and install them with the same care as we would our own.
Request a Window or Door Quote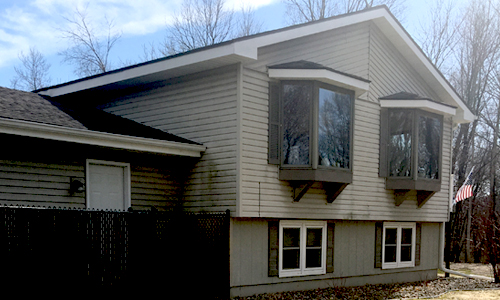 Window Services
Installation
Replacement Windows
Glass Available
Screening
Vinyl Replacement Windows
Storm Doors
Exterior and Patio Doors
Expert Exterior Construction Services
Not only are we precision craftsmen, but we also have a designer's eye for matching the right colors and textures for your home style. Perhaps you'd like a new decorative storm door that gives a modern flair, or a rustic, classic look. Or maybe a stylish sliding french patio door for your back patio where you entertain and relax in the summers. Let's talk about your options in a no-obligation consultation.
We're proud to work with some of the best windows and doors manufacturers in the industry with Simonton and ThermaTru. The links below take you to their pages, where you can see some of the options to design your own door, or see your window replacement options for look and materials.
Professional Door and Window Installation
When it comes to door and window installation companies, Denning Construction LLC has over 50 years of experience in installing vinyl windows, vinyl window replacement, vinyl sliding patio doors, storm doors, and a wide variety of home makeover options. With that wealth of experience satisfying customers in the Chippewa Valley and surrounding Wisconsin area, we know the types of windows Eau Claire and Chippewa Falls area need, and we go "above and beyond" to provide you with unbeatable service that will make you happy you called us, and more proud of your home than ever.
We service a wide range of communities in Wisconsin - including the greater Chippewa Valley, Eau Claire, Chippewa Falls, Bloomer, Cadott, Altoona, Seymour, Thorp, Cornell, Eagleton, Eagle Point, Osseo, Augusta, Gilman, New Auburn, Black River Falls, Menomonie and surrounding WI areas.
Check out our Testimonials page to hear what just a few of our satisfied customers have said about us, and give us a call to discuss how we can provide window replacement or door replacement to improve the look, efficiency, and utility of your home today! Call us at 715-579-4699 for a no-obligation consultation.