Vinyl Siding Installation
Offering Siding Services in Eau Claire, Chippewa Falls, Menomonie, Bloomer, Black River Falls, and Surrounding Areas
With over 50 years experience as siding installers, you can rely on Denning Construction for all your vinyl siding needs.
Look to Denning Construction for all your vinyl siding needs. Your home's exterior needs to withstand some pretty extreme Wisconsin weather - frigid winters, ice, snow, hail, hard rains, wind gusts, intense direct sun, heat, humidity, and more. It's vital that your home exterior siding stand up to these brutal elements, and by choosing a trustworthy vinyl siding contractor like Denning Construction LLC, you can rest assured that we'll get the job done right - the first time.
We know the types of siding Eau Claire and area Wisconsin residents need to withstand these weather extremes, and we choose only the best siding materials and energy-efficient components, all carefully installed by the craftsmen at Denning Construction LLC.
We're a proud siding installer of LP SmartSide and Norandex siding, some of the best vinyl siding manufacturers on the market today. Together, we offer you a wide range of LP and Mastic vinyl siding colors to match your decor and your personality to build an even greater sense of pride in your home.
The home exterior makeover option has become increasingly popular, due to an unbeatable combination of durability, attractiveness, and affordability. We're the home siding contractor you can count on for quality vinyl siding replacement, siding installation, and home siding repair. Keep your home investment protected with the best vinyl exterior siding - all installed by an experienced Wisconsin siding contractor that you can trust.
Call 715-579-4699 to get an estimate for siding today.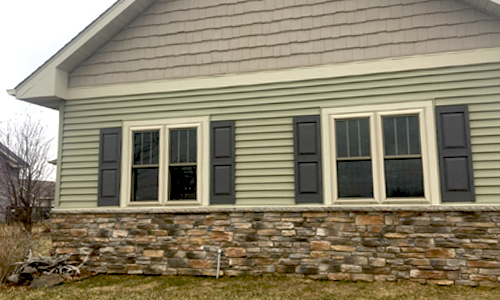 Your Complete Exterior Craftsmen
You can rest assured that we handle all aspects of exterior construction, including windows and doors, roofs, decks, sheds, and more. We're experts at exterior home makeovers. You can count on us for installation, repairs, renovations, design, or anything else you may need!
Request a Siding Quote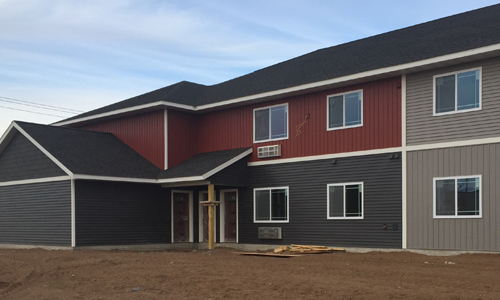 Siding Services
Vinyl Siding
Vinyl Siding Replacement
Vinyl Siding Installation
Vinyl Siding Repairs
Professional Siding Installation
With decades of quality work under our belts, our family is proud of the work we've provided to the Chippewa Falls area. See what our customers have to say by reading our testimonials or learn more about our company.
We service a wide range of communities in Wisconsin - including the greater Chippewa Valley, Eau Claire, Chippewa Falls, Bloomer, Cadott, Altoona, Seymour, Thorp, Cornell, Eagleton, Eagle Point, Osseo, Augusta, Gilman, New Auburn, Black River Falls, Menomonie and surrounding WI areas.
Call Denning Construction LLC today at 715-579-4699 to get a no-obligation quote for exterior siding that you can count on. Protect your home and start saving money today!