Our Exterior Construction Company
Offering Exterior Construction in Eau Claire, Chippewa Falls, Menomonie, Bloomer, Black River Falls, and Surrounding Areas
With over 50 years of experience, we'll get your next home improvement project done right the first time.
Since 1961, our family-owned company has provided superior quality construction, roofing, siding, window replacement, deck construction, and more to the Eau Claire and Chippewa Valley, WI area. Established by William Denning, and then passed on to his son in 1991, Denning Construction, LLC has become well respected within the construction industry and a known leader in the craftsman community.
You can rely on Denning Construction, LLC to install or repair your siding or roof, replace or build your windows and doors, or build your deck, garage, or yard shed - using quality, respected brand name products that stand the test of time.
We're located in Jim Falls, WI and service a wide range of communities in Wisconsin - including the greater Chippewa Valley, Eau Claire, Chippewa Falls, Bloomer, Cadott, Altoona, Seymour, Thorp, Cornell, Eagleton, Eagle Point, Osseo, Augusta, Gilman, New Auburn, Black River Falls, Menomonie, and surrounding WI areas.
Call 715-579-4699 to get an estimate for exterior construction services today.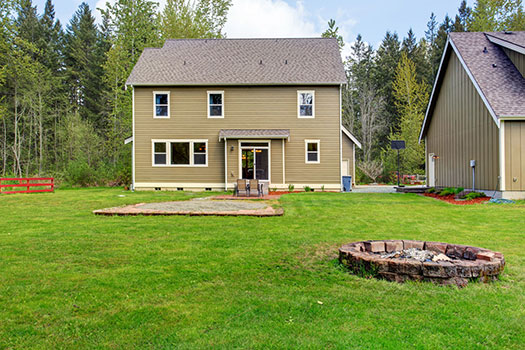 Make The Most Out Of Your Home Investment
Since your home is likely the biggest investment you will make in your life, you should make the most of it. With our Eau Claire exterior services, you can:
Protect your home from the elements
Extend the life of all the components in your home
Save money with increased energy efficiency
Increase your property value
With increased functionality or additions
Request a Exterior Construction Quote
Exterior Construction Services
Learn more about our outstanding selection of services
Want to know more about what Denning Construction, LLC can do for you? Read about our wide variety of services - including exterior home siding, roofing, door and window replacement, garage additions, yard sheds, deck construction, and other exterior construction projects that will add value and functionality to your home!
Just have a look at our testimonials to see what a few of our long-time customers have to say about our workmanship, professionalism, and communication for their projects.
Call 715-579-4699 today or fill out the form on our Contact Us page for a free consultation and estimate on the exterior home improvements you want for your home. You'll get superior workmanship that is the result of over 50 years of experience in the construction business.